Pure Iberian DNA
Our Iberian pork meat comes from authentic Iberian pigs fed on acorn, cereals, legumes and other countryside resources. Although it is undoubtedly the seasonality of "the montanera" that marks the quality of many of our pieces.
The uplifting Iberian pork meat deserves its own separate chapter. This is why we offer you pieces that carry our particular DNA and that we are incredibly pleased to share.
THE MONTANERA
QUALITY MARK OF OUR PIECES
We base the choice of the pieces on 3 pillars: breed, diet and place where they are raised.
Our meat comes from pigs raised both in freedom and on farms, and are fed with cereals, legumes and natural countryside resources. But it is undoubtedly the acorn and the seasonality of the Montanera that primes in the final result of all our Iberian Pork Meat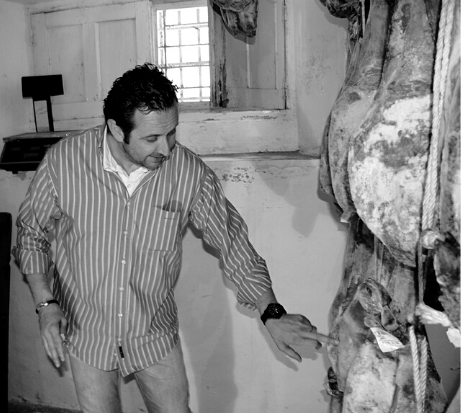 KNOW OUR BEGINNINGS
BE PART OF OUR HISTORY
The story of Ibéricos Yebra begins with Roberto Yebra, a young entrepreneur with a non-conformist character, in a small town located in Guijuelo, the birthplace of the Iberian.
In his first stage in this town, Roberto understood the great potential that he had in his hands, and how little valued it was: Iberian Pork Meat.

100% Natural
Pigs fed on acorn, grass and natural resources during the montanera months
Sustainable production
Our organic meats come from certified farms that comply with organic regulations.

Fresh or chilled product
We recommend purchasing the frozen product to better preserve the nutrients.

Shipments in 24-72h
Fresh products will be shipped on Wednesdays in orders that enter before 3pm on the previous Tuesday.
C/ Miguel de Unamuno 6, 37778, Campillo de Salvatierra (Salamanca)