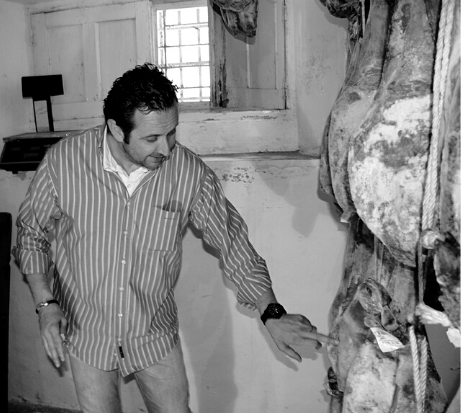 Roberto Yebra's first stage in Guijuelo took place between 1997 and 2005, working mainly with high-quality meat and Iberian meat products.
His philosophy is based on knowing in detail both the product and the customer.
Meat products are exported, but Roberto understands the great potential that Iberian pork has.
2005
EXPORT OF IBERIAN PORK MEAT
In 2005 he developed a company dedicated exclusively to the export of Iberian pork. He tripled the income of his company in a single year and helping it rank as the number one exporter of Iberian pork in the country.
2007
THE BEGINNING OF ROYEME SPANISH DELI
The dream of gaining a foothold in the national and international scene and the desire to bring the quality of artisan products to the whole world, led to the birth of Royeme Spanish Deli S.L. However, this endeavor doesn't begin to work until 2009.
We started working with first quality Iberian pork. We entered the Framework List of registered establishments for the export of meat and meat products, from which the brands were born:
SERRANÍA IBÉRICA: FOR FRESH MEAT
BODEGA IBÉRICA: FOR IBERIAN PRODUCT
Our main clients are select lodgement and delicatessen establishments, not only in the peninsula but in the rest of Europe (France, England, Germany, Holland, among others) With regard to the intra-community market, our largest clients are in Japan and South Korea
In this period we obtained different certifications of the Quality Standard:
2013 – Certification of Quality Standard for Iberian meat, ham, shoulder, and cane loin (Royal Decree 1469 / 2007of November 2).
2016 -Certification of specific self-control systems for export to third countries (SAE level 3) for meat products, obtaining approvals to export to Japan, Canada, Costa Rica, Mexico, Cuba, Uruguay, Morocco, Chile, and Panama.
We began to pack our certified Iberian and acorn meats under the Royeme Spanish Deli Ibérico and Royeme Spanish Deli Ibérico, Bellota brand, for national and international destinations.
2020-2021
IBÉRICOS YEBRA, BY THE HAND OF THE INTERNET
With the aim of unifying all our brands, Ibericos Yebra was born, a brand capable of encompassing all our products, adapting to new technologies, yet also maintaining our essence.
We created our own online store, which brings together a selection of our cured products, sausages, and Iberian meats. With our arrival on Facebook and Instagram, we open new communication channels that allow us to obtain immediate feedback and show our products and our philosophy.